About us
Recreational river users know that timing and conditions are everything, and with our unique live and archived HD footage of river conditions, water height and colour, we've created an online destination that's fast becoming the site to bookmark for keen and committed recreational river users. In recent years our network has been very useful for flood monitoring purposes. 
Farson Digital Watercams was formed in the summer of 2009. Like all good ideas, it came from four people chatting in a bar. They wished they could see the river conditions elsewhere. This ended up with the first camera being erected on the River Exe at Exebridge in May 2009, closely followed by one on the Taw at Umberleigh. They were then integrated into two fishing club websites. The feedback was phenomenal, so we decided to sell advertising around the images for a host of national and local businesses.
Why 'Farson Digital'?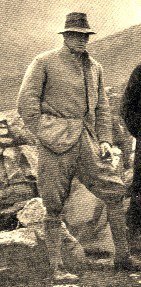 James Negley Farson (1890-1960) was a journalist, adventurer, travel-book writer and angler, whose 1942 book, 'Going Fishing', is considered by many to be one of the greatest fishing travel books published to date. Born in New Jersey, Farson emigrated to England and became a foreign correspondent for the Chicago Daily News. He was soon regarded to be the best in his field, combining an outstanding writing ability with an aptitude for being present at moments of great historical interest. Farson reported from Red Square on the first day of the Russian Revolution, interviewed Ghandi in Poona on the day of his arrest and assisted the FBI in Chicago in the witnessing of bank-robber, Dillinger's body following their shooting of him. He partied with F Scott Fitzgerald and was reported to have out-drunk Hemingway.  
Farson was also an intrepid explorer, bringing vivid accounts of cultures, countries and historic events to readers at a time when extensive travel was available to few and the written word was the main medium of information. He was never without his fishing rod, and thrilled readers with tales of salmon fishing from far-flung and exotic places such as the Caucasus, Chile, British Columbia and Moscow to name but a few. Despite such extensive travel, he was most drawn to fishing the streams and rivers of Devon and Somerset, and lived out his final years in Devon. 
Farson makes reference to his love of fishing The Exe and Barle, 'where two cool little rivers meet down in Somerset', and this was just upriver from the location of Farson Digital's first camera at Exebridge. It seemed obvious to tip our caps to the hero who had acted as a window to a wider world before the luxuries of cheap global travel and a continuous stream of digital information became available.  
Since 2009 we've expanded our growing network to include over 196 of the best locations around the UK and The Republic of Ireland. Now bringing you up to date weather, agency water levels, tide information, rainfall data. Rather than just dreaming of the perfect conditions for your next trip, we bring them to you live right here.
A great opportunity to reach your customers
It's an exciting time to get on board with Farson. We already have the ability to record real-time, provide live feeds into news desks and save images into our unique archive. We are already making plans to expand the network and explore new applications for other river users.